Ticket Transactions
Quick Transactions for Exhibitions
Quick Transactions for Exhibitions enables you to sell tickets for General Admission events where there is no specific starting time, such as exhibitions, trade shows, all day events etc.

From the main menu bar, select Ticket Transactions > Quick Transactions for Exhibitions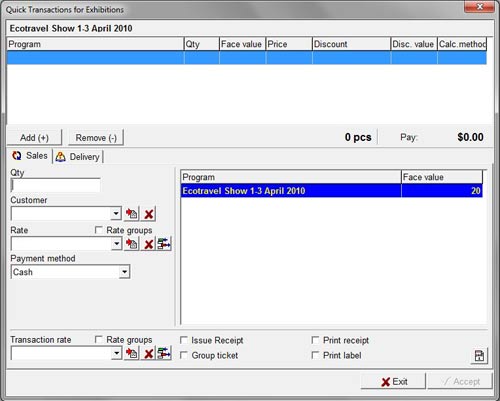 Select the event in the Program Window.
Note that only events where no specific date or time has been set in Maintenance > Events will be listed.

Also note that you cannot sell tickets to different events in the same transaction.

The various price levels of the events appear as separate rows in the list.

Enter the number of tickets you wish to sell in the Quantity field.
The ticket(s) will be added to the Cart.

To add additional tickets to the cart, click on the Add(+) button, then follow the steps above.

Click on the Remove(-) button to delete a ticket from the Cart.

If you wish to modify the ticket price or add discounts or fees to the tickets, select the required Rate from the drop down Rate list.

You can (optionally) assign the purchaser's name to the transaction by selecting the customer in the Customer drop down list.
If the customer is not listed, click on the button with the red arrow at the right of the drop down box which will take you to Maintenance > Customers where you can enter details of the new customer.

By checking the appropriate check boxes, you can:
Print a Group ticket (a single ticket for the complete transaction instead of individual tickets)
Issue a full page Receipt (see Receipts in the main menu)
Print a receipt
Print an address label


Select the
Payment method
from the drop down list.
Click on the
Accept
button to complete the transaction.