Season Ticket Transactions
Allocate Season Ticket to Reseller
Enables a user to allocate and print season tickets for offline resellers.
The resellers may return unsold tickets until a specified date prior to the event.
The system will automatically change the status of unreturned consigned tickets to sold when this deadline is passed.

From the main menu bar, select Season Ticket transactions > Allocate Season Ticket to Reseller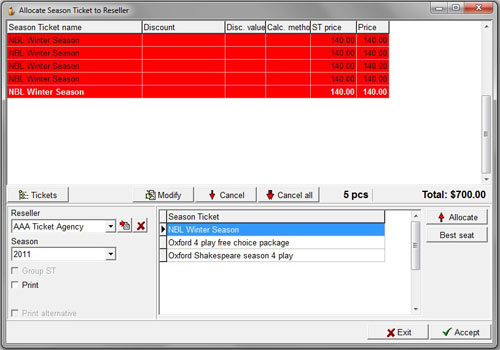 Select the Season from the drop down list.

Select the Reseller from the Reseller drop down list.
If the reseller is not listed, click on the button with the red arrow at the right of the drop down box to go to Maintenance > Resellers where you can enter details of the new reseller.

Select the Season ticket from the Select Window.

Click on the Allocate button if you wish to select the seats from the seating chart and the seating chart will appear.

Select the seat(s)and click on the OK button when finished.

The selected seat(s) will be added to the Cart, and the information relating to the season tickets will be displayed.
OR
Alternatively select the seats by the Best available seat system by clicking on the Best seat button.

To view the tickets belonging to a selected season ticket, click on the Tickets button.

If you wish to modify rates or add per ticket fees to the season ticket, click on the Modify button.

To remove a season ticket from the list, click on the Cancel button.

To remove every item from the list, click on the Cancel all button.

To print a single season ticket rather than individual tickets for each event in the season, check the Group ST check box.

To Print single tickets, click the Print button.

You now have a choice of printing a Detailed receipt in 2 copies along with the tickets.

An example of the Detailed Receipt is shown below.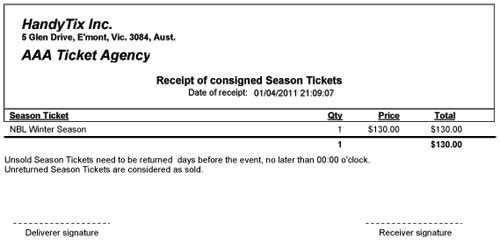 Click on the Accept button to allocate/print the tickets for the Reseller.