Season Ticket Transactions
Close Consignment
The act of closing a consignment means that all season tickets issued to a Reseller are regarded as firm sales by that reseller irrespective of whether the Reseller has actually sold the tickets or not.
When closing consignments:
The commission or discount rate assigned to the reseller's name is calculated when closing the consignment.

Before completing this transaction please make sure that the right commission or discount rate is set.
The rate assigned to the reseller's name shows right below the reseller's name.

From the main menu bar, select Season Ticket transactions > Close Consignment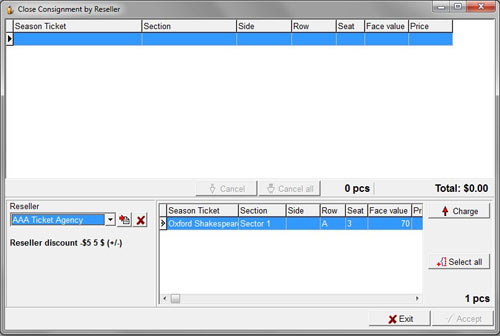 Select the Reseller name in the drop down list. The reseller's printed consigned season tickets will be displayed in the Select Window.

NOTE: After closing the consignment, the rates calculated at the moment of closing the consignment cannot be changed. Double check that the right rate is set before completing the transaction. The reseller rate is displayed below the Reseller name.

Select the item(s) or click on Select all button.

Click on the Charge button.

The selected season tickets will be added to the upper window, where the information relating to them will be displayed.

You can withdraw an item by selecting the season ticket in the list and clicking on the Cancel button.
The selected season ticket will be put back to the Select Window.

Click on the Cancel button or the Cancel all button to withdraw all the items from the list.

Click on the Accept button.

The value of the season tickets will be charged to the reseller's account, and will be added to the Outstanding Debts list.