Season Ticket Transactions
Client List by Season Tickets
Allows you to print or view on screen a list of subscribers selected by Season and Subscription series.

From the main menu bar, select Season Ticket Transactions > Client List by Season Ticket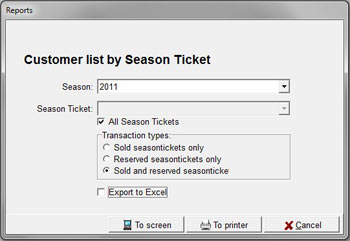 Select the Season from the drop down list.

Select the Season Ticket from the Season Ticket drop down box.

Check the required radio button for a customer list of Sold tickets only, Reserved tickets only or Sold plus Reserved Season Tickets transactions.

Click on the to Printer button to print out the report, or the to Screen button to view the report.

An example of a typical Season Ticket Client List is shown below.