Season Ticket Transactions
Installment
Accept a final payment and print tickets where a Season Ticket has been previously reserved or renewed by means of a down payment.

From the main menu bar, select Season ticket transactions > Installment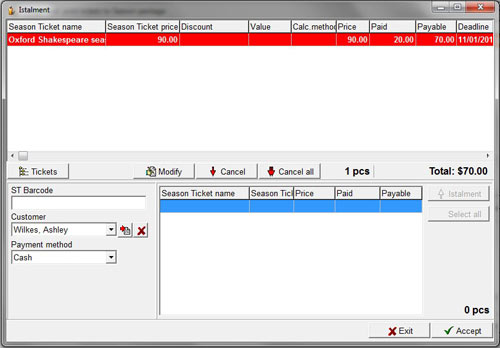 Enter the barcode of the season ticket in the ST Barcode field.

The season ticket that corresponds to the barcode will appear in the Select Window.
OR
Select the Customer name from the drop down list.

All the season tickets for which the customer has made a down payment will appear in the central panel.

Select a specific season ticket(s) from the list or click on the Select all button to select all season tickets displayed.

Click on the Installment button and the selected season ticket(s) will be added to the upper window where the information relating to each season ticket(s) will be displayed.

To view the details of the tickets relating to a specific season ticket selected in the upper window, click on the Tickets button.
A pop up window will show the information relating to the tickets.

To remove a single season ticket from the list, click on the Cancel button.

To remove every item from the list, click on the Cancel all button.

To apply any modified price(s) to the Season ticket(s), click on the Modify button.

Select the Payment method from the drop down box.

Check the Group Season Ticket button if you wish to print a single ticket with a list of all the events in the selected season rather than individual tickets for each event.

Click on the Accept button.

The season ticket will be printed immediately unless it was printed when the initial payment was made. (subject to Print after down payment setting in Maintenance > Season Tickets).