Season Ticket Transactions
Change Season Ticket Release Time
Quickly change the time/date that reserved Season Tickets are automatically released for resale if not paid for in full.

From the main menu bar, select Ticket transactions > Change Season Ticket Release Time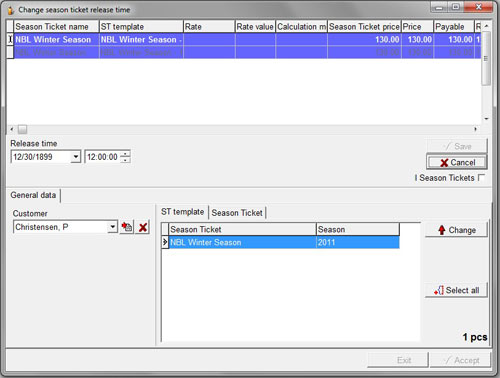 Select the customer from the drop down Customer list.
The corresponding Season Ticket(s) reserved by the customer will be displayed in the central panel.

Click on the Season Ticket tab if you wish to see the seat number of the selected Season Ticket.

Click on the ticket name to select a single Season Ticket or click on Select all to select all Season Tickets displayed.

Click on the Change button to move the selected ticket(s) to the upper panel.

Click on the Tickets button to display the individual events with row/seat number of any Season ticket.

Click on the Modify button to change the release time via the drop down calendar and clock.

Click on All Season Tickets if you want the release time to be changed for all tickets listed.

Click on Save. (Note that the Save button will be greyed out unless the Release time is later than the current date/time).

After clicking on Save, the Reserve deadline will be displayed in the upper panel alongside the Season ticket details.

Click on Accept to exit.